So what is Ideal Cut? Everyone has their own opinion on what Ideal is. Some people prefer a diamond to have a somewhat larger table, say around 60%, so the diamond "looks" bigger, some want the Tolkowsky Ideal cut, as calculated in the early 20th century by mathematician Markov Tolkowsky. The diagram below describes the Class 1 and 2 grades of GIA. They are the largest body in the world for diamond grading, and we use their classifications to grade our diamonds. Class 1 is Ideal. Class 2 is Very Fine, Class 3 is Fair, and Class 4 is Poor. We do not sell Class 3 or 4 diamonds. All diamonds we sell that are 0.50ct or larger on this website fall into the GIA's definition of "Ideal – Very Fine" Class, and are as follows: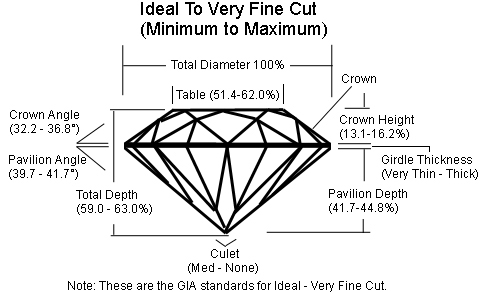 Please keep in mind that diamonds other than round brilliant do not always have their cuts measured in such detail because they are classified as "fancy cut" diamonds and have very loose tolerances. For more information regarding our "fancy cut" diamond specifications, please contact us.
When buying a diamond, especially a round brilliant cut diamond, it is always best to have a complete analysis of cut. This will tell you all the specifications of the diamond's cut such as table percentage, depth percentage, etc., usually obtained from a scope (or megascope). Ask your jeweler for this report on cut if you are making a large diamond purchase.